How to play the game "Cleaning the Windows Game"?
In these free girls games, you will have to clean the windows of a building without falling off your scaffolding. The only way to stay stable is to avoid standing in the way when you find that a window is being opened. To move yourself, use the arrows on your keyboard. You can also climb, descend and go from left to right. Watch carefully for the residents of the building because its them who who will open the windows. Read more
To clean the windows you will have to press down on the space bar until they are shining. If you're interrupted, you can go back to the window that you didn't finish yet. The goal of this game for girls is to succeed in cleaning all the windows of the building. Then you will be a great employee and people will thank you. If you fall, you must start over from scratch. Now try something new like some cooking games.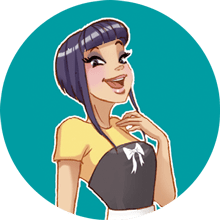 Cleaning the Windows is one of my favorites! We clearly have awesome taste! Come and play more of my fave free games!