How to play the game "Cat Spot the Difference Game"?
We've got another challenging puzzle for you to tackle in today's girl games! Whiskers is a cute ginger cat who loves to eat: cake, biscuits, chicken, even sushi... there's nothing this greedy kitty won't scoff up if you put it in front of her! In this girl's spot the difference game you'll see pictures of Whiskers as she eats out at some of her favorite restaurants and cafes. Can you spot the differences in this puzzle game for girls? Read more
Study the pictures really carefully and try to find the small differences between each image in this spot the difference game; some of them are very well hidden, so keep your eyes peeled! If you manage to spot the differences before the time runs out, you'll get to move onto the next level of this cat game for girls - there are no less than ten for you to complete! If you enjoy solving the puzzle with Whiskers today, keep an eye out for more spot the difference games around the site! There are tons of puzzles to keep you busy on this girls' games site!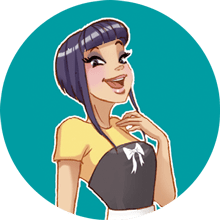 Cat Spot the Difference is one of my favorites! We clearly have awesome taste! Come and play more of my fave cat games!