How to play the game "Brick Blaster Puzzle for Girls Game"?
Oh no!! Sisi the kitty is trapped behind a brick wall, and she can't find her way out! She needs a girls' games expert like you to blast through the bricks so she can escape - think you're up to the challenge? Just use your mouse to throw a ball at the bricks to make them disappear, but don't let it fall to the ground or you'll lose a life. As you move through the level in this girl puzzle game you'll have to tap the bricks two, three or four times to break them, so get ready to play fast! Read more
These puzzle games for girls are really simple but super addictive, don't you think? If you love bubble blaster games or retro arcade games like Tetris or Columns, you'll find hours of entertainment in our surprise section. How many points do you think you'll be able to score? Leave us a comment with your top score and set a challenge for the other girls on the site!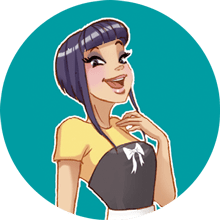 Brick Blaster Puzzle for Girls is one of my favorites! We clearly have awesome taste! Come and play more of my fave puzzle games!