How to play the game "Birthday Games "?
Is it your birthday soon? Maybe one of your friends has a birthday coming up? If so, why not send them one of our online birthday games as a special treat? On MyGames4Girls.com you'll find loads of special games for birthday girls and boys! Today we're going to bake a butterfly cake for Matilda, a little girl who is turning 6. Grab your apron and let's get to work! Read more
Matilda is a real girly girl, and for her birthday she's asked for a pink and purple cake shaped like a butterfly. Sound tricky? Not in our girls' games! Just click the icons at the top of the screen to decorate the birthday cake with frosting, chocolate, candies, sprinkles and more. Don't forget the candles! Have fun!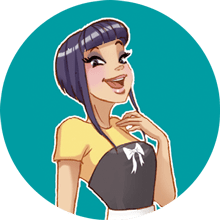 Birthday Games is one of my favorites! We clearly have awesome taste! Come and play more of my fave cake games!