How to play the game "Bikini Fashion Dress Up Game"?
Don't you just loving going to the beach to catch some sun? The smell of the sea, the warm feel of the sand, the sound of seagulls and the roar of the waves...what more could you want? Well, some gorgeous beach fashion of course! Looking cool on the beach is essential to any fashion-loving girl gamer, and we've got just the dress up game for you to try out those different summer looks. Read more
Kirsty has just arrived on her holiday. It's boiling hot outside and she can't wait to hit the beach, but there's a problem...she left her bag on the plane! She clearly left her memory at home! It's up to you to fix a beach outfit for Kirsty quick, before she melts in the sweltering heat! In this dress up game, look through different bikinis, swimming costumes, sarongs and more. Don't forget to give her the perfect summer hairstyle too. We wonder if she'll let us join her on the beach? Don't forget your sun cream Kirsty! Or was that in your bag too..?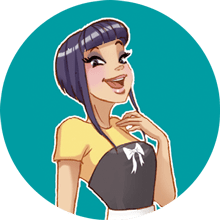 Bikini Fashion Dress Up is one of my favorites! We clearly have awesome taste! Come and play more of my fave beach games!