How to play the game "Batman's dog Game"?
Girls all know Batman and his companion Robin, but many of you don't know that Batman has a dog too! In this animal game for girls you'll get to know Batdog and you'll have to help it in this dangerous mission. You'll need to deliver Superdog, (superman's dog) which has been found trapped in the middle of some cryptonite crystals which means it can't get out without some help. With your moust, you'll need to help Batdog to move from top to bottom in this adventure game for girls, then by clicking you can launch missiles to destroy the crystals. Read more
Every time you miss your target, Batdog will lose energy and will get closer to benig eliminated. But if you manage to hit your targets and get to superdog, you'll be the new hero for rescuing supermans dog. This is an adventure game, and animal game and lots more all in one great game for girls. There are hundreds more fantastic games for girls here on mgames4girls.com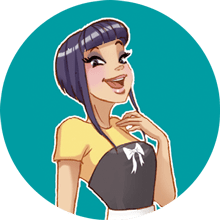 Batman's dog is one of my favorites! We clearly have awesome taste! Come and play more of my fave dog games!