How to play the game "Barbara's Dagger Game"?
Always staying super quiet and alert, Barbara crosses the jungle on her tiptoes. The wind shakes the trees and the breeze carries the scent of the plants and soil. Wait, just a second. What's that horrible stench? The tarantula thieves! They have taken over the tree in the village and are stealing all the magic balls! Not if Barbara can help it. Get in position and throw the knives in the right direction to kill the spiders. The village depends on your good aim!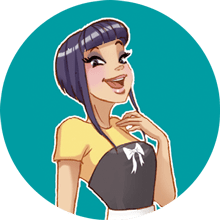 Barbara's Dagger is one of my favorites! We clearly have awesome taste! Come and play more of my fave free games!