How to play the game "Ballerina Makeover Game"?
Ballet is a very tricky sport. It requires concentration, lots of training and flexibility. To become a dancer, you have to be very strong! In this make up game for girls, we present Anna. Anna has been dancing since she was four years old, and has never stopped...it's her passion! When she was sixteen, she joined the Royal School of Ballet in London, and she's now reached the top of the ladder...she is a fully qualified ballet dancer! Read more
Tonight in this free girls game, it is the first ballet that Anna has ever performed in, and it's a role she has always dreamed of...the White Swan in Swan Lake! She's so nervous. To make it even more stressful, the choreographer has asked her to prepare her own costume and make up. Yikes! This is where you come in. You must help Anna to apply her make up and dress like a real ballerina in the most beautiful costume...remember the tutu needs to look amazing when she twirls on stage! Give this ballerina girl a sparkling makeover so that she's ready to take on the stage. Do you love to dance like Anna? Tell us about it in the comments!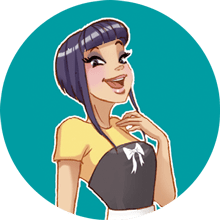 Ballerina Makeover is one of my favorites! We clearly have awesome taste! Come and play more of my fave make up games!