How to play the game "Alien Spot the Difference Game"?
The alien family in this girls' puzzle game have just arrived back home after an amazing cosmic voyage into outer space! They've spent the past few months flying through the universe on their spaceship, have finally arrived back on their home planet. All their alien friends have come to the spaceport to welcome them home in this spot the difference game for girls, and one of their relatives has even taken some photos – now it's up to you to spot the differences between them! Read more
It's not easy to spot the difference in this challenging girls' game… some are very well hidden, so if you get stuck click 'Hint' for a clue. Once you've found all the differences you'll move onto the next level of this online girls' game, where you'll have to arrange the photos of our alien friends in a jigsaw puzzle game. If you love puzzles, brain teasers and spot the difference games, make sure you check out the rest of the girls' games on the site – you'll find loads of challenges to keep your gray matter ticking here!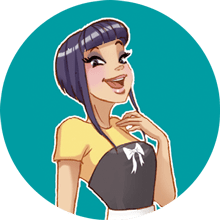 Alien Spot the Difference is one of my favorites! We clearly have awesome taste! Come and play more of my fave difference games!