How to play the game "Swimming With Dolphins Game"?
Have you ever seen dolphins swimming in the ocean, or having fun and playing games in a water park or aquarium? Whether they're in the sea, in a zoo or in girls' games, dolphins always seem to be having a good time! Do you know of any famous dolphins like Flipper or Winter? In this game you'll meet their good friend Zoom, a very intelligent white dolphin who loves splashing around in the water and showing off for the aquarium crowds by doing different tricks. In this surprise game, you'll need to help him collect as many stars as possible so he can prove he's the quickest dolphin around. It's time to shows the whales and the fish who's boss! Read more
Have you ever wondered what it would be like to work as an animal trainer? You can give it a shot in this dolphin game! Use the arrows on your keyboard to direct Zoom right, left, up and down to collect the stars floating in and above the water. You'll have a target amount of stars to catch in each level, so do your best to grab them all and help Zoom protect his title as #1 dolphin!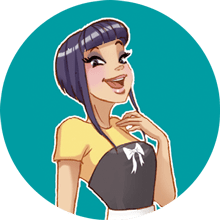 Swimming With Dolphins is one of my favorites! We clearly have awesome taste! Come and play more of my fave adventure games!