How to play the game "Poker Queen Game"?
You'd better play your cards right in this dress up game for girls, because we're heading to a casino! Today is Laurie's birthday, and she's celebrating the day with a poker party. She's practically a pro when it comes to card games and loves playing poker with her friends or in girls' games online (not for money, of course - just for fun!). If you've seen casinos in movies or on TV, you'll know that they're always fabulously decorated and full of rich and famous people. She needs a really chic costume to wear to the party, so let's give her a striking new look in this a poker dress up game for girls. Read more
Whether she's playing card games or getting dressed for a party, Laurie always tries her best to impress. As you'll see in this dress up game, she has a deck full of costumes and accessories featuring hearts, clubs, spades, diamonds and all things card-related in her wardrobe. With your help, Laurie will look stunning as she shuffles, cuts and deals the cards at her birthday party! What about you, are you a card games fan like Laurie? Or is the only 'Poker Face' for you the Lady Gaga song?! Have fun, and check out the rest of the free dress up games on the site for more surprises!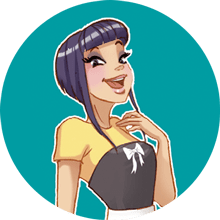 Poker Queen is one of my favorites! We clearly have awesome taste! Come and play more of my fave card games!