How to play the game "Panda Fruit Game"?
This new girls' game stars some very cute heros: three cuddly little pandas! In this girls' animal game, two squirrels have asked their panda friends to help them find some food. They've made a trampoline so the pandas can jump high into the air and grab the bananas, oranges and other fruits from the trees high above them. Pretty clever, huh? To start this fun free game, just press the space bar to place the panda on the trampoline then press a second time to send him flying into the air. Use the mouse to direct the squirrels from left to right so they can catch the panda. If he falls the ground you'll lose a life, and the poor panda will hurt himself. Read more
Try to grab all the special icons in this cute animal game to hit the high score. The golden apples will give you extra points, and the ninja icon will send a ninja to help you gather the fruit. If you pass the level, you'll see the panda do a happy little dance! Move fast in this fun free animal game to grab all the fruit so the pandas and squirrels can enjoy a delicious dinner together. Have fun, and make sure you check out lots more girls' games with animals right here!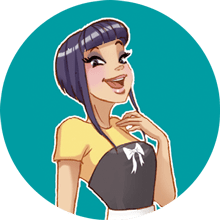 Panda Fruit Game is one of my favorites! We clearly have awesome taste! Come and play more of my fave animal games!