How to play the game "Online Solitaire Challenge Game"?
Shuffle those cards and get your thinking caps on, because it's time to play Solitaire! You'll love this winter version of the famous card game for girls, because it features cute snowmen, cuddly polar bears and lots of other Christmassy characters. Don't worry if you've never played Solitaire or other online card games before, because it's really easy and lots of fun! Read more
This card game is a little different from Mahjong or other online Solitaire games, but the aim is the same: you have to move the cards on the board and sort them into their suits, from the ace right up to the king. It might sound easy, but like many card games and girl games you'll have to race against the clock to finish before the time runs out, so get moving! Have fun, and keep browsing the girls' games on the site for lots more online card games and other puzzles!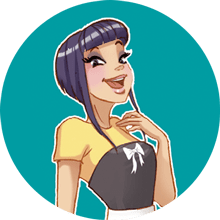 Online Solitaire Challenge is one of my favorites! We clearly have awesome taste! Come and play more of my fave christmas games!