How to play the game "No.1 Dad Challenge Game"?
You'll never run out of fun new challenges in our girls' games! Today, our friend Fred needs your help. His wife has gone on a girls' weekend away with her friends, and has left him to look after their gorgeous baby son, Lucas. However, there just so happens to be a big football game on TV today, so little Lucas doesn't have 100% of his daddy's attention…it's a family crisis! Can you lend Fred a hand to look after his cute baby boy? Looking after babies is pretty tough in real life, but in our girls' games it's a doddle - Lucas's Mom has even left instructions to help you out! Read more
Most of the items you'll need to look after Lucas in this baby game are scattered across the living room floor, so click on the blinking ones to pick them up and begin an activity. Like a real daddy, you'll need to wash and change baby Lucas, give him his bottle and rock him to sleep. There are several levels in this family game and if you pass them all, Fred will become a SuperDaddy!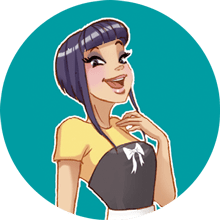 No.1 Dad Challenge is one of my favorites! We clearly have awesome taste! Come and play more of my fave free games!