How to play the game "New Mom Makeover Game"?
Claire was up until 10pm last night. Then she had to get up again at 3am, and again at 5.30pm. She wasn't hungry, or sleepwalking, she was looking after her new baby girl! She is so tired, and she's had no time to do her hair or make up! She loves her new baby, but she's had no time to herself. It's so hard being a new mom! In this free make up game for girls, your job is to make Claire feel good about herself again by turning her home into a mini-spa and giving her a new mom makeover. Read more
Claire's husband Chris is due to get home from work in an hour, he has been very worried about his lovely wife! Let's give Chris a real surprise by making Claire look like her gorgeous, happy self again. You can pamper her with a face mask before applying make up, and then choose a pretty hairstyle and jewelry in this free make up girls' game. Doesn't she scrub up well? She'll be feeling so much better by the time you have performed your beauty tricks. We know this little baby is going to grow into a beautiful girl if her mom is anything to go by! We hope Chris tells his wife just how pretty she looks when he gets home and sees the results of her makeover! What a cute family!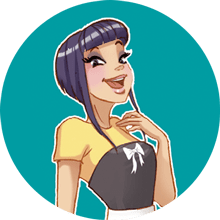 New Mom Makeover is one of my favorites! We clearly have awesome taste! Come and play more of my fave makeover games!