How to play the game "Gloves Madness in the City Game"?
Brrr, it's cold in New York City! Mary has been living in the Big Apple for a year now, and it will not stop snowing and snowing...and snowing some more! The poor little thing is sad because, despite adoring New York and having a great new life with new friends, she just can not bear the cold weather in this city! In fact, she cannot remember the last time she saw the sun in this girls' dress up game. However, there is something to cheer Mary up...a shopping trip for some chic winter clothes! Read more
Of course! The best way to cheer up in the cold is to update your winter wardrobe...any dress up gamer knows this! One of the most essential items of a winter wardrobe is gloves. You can get so many different types! You can go chic and ladylike with smart gloves, or go cutesy and girly with fluffy mittens in this free dress up game. There's such variety, check out the earmuffs, hats and coats too! We're sure that Mary will feel loads better once she steps out in this cold city in the latest winter fashion. What do you prefer, gloves or mittens? Tell us in the comments!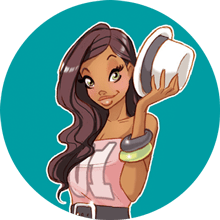 You're clearly loving Gloves Madness in the City - you should check out my pick of the best city games!