How to play the game "Baby Dinosaur Game"?
We're heading back in time in these girls' games! If you're fascinated by the prehistoric era and love learning about dinosaurs, you'll love the little dinosaurs we have lined up for you today. A mother dinosaur has gone in search for food and has left her three dino babies at the Rex & Co Nursery for the afternoon. Can you help look after them until she gets back? Read more
If you've tried babysitting games or have even looked after little boys and girls for your relatives or neighbours, you'll have no problem looking after the critters in this game. Pay good attention to the kids to find out what they need and give them whatever they ask for: toys, food, games... Have fun and make sure the babies are happy when their mom gets back - you don't want an angry T-Rex on your hands!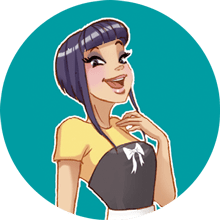 Baby Dinosaur Game is one of my favorites! We clearly have awesome taste! Come and play more of my fave animal games!