How to play the game "A dress up boy game"?
Paul is a boy who must find a costume for the carnival. He has many choices in this dress up game and he is unable to decide what is best. By clicking on the buttons at the bottom of this free game for girls, you can access the whole of Paul's wardrobe. Over the years, he has collected many great and sometimes completely crazy accessories. In this boy game for girls you can get to mix up all sorts of different styles to make a super look for Paul. Read more
There are pants of an astronaut and a cowboy! Or maybe you want a clown's jumper with the legs of an alien! By clicking the button "outfits" on the bottom right of this game just for girls, you can see the uniforms worn by Paul normally. Let your imagination run while for some great fun in this free boy game for girls.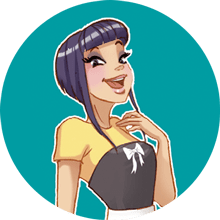 A dress up boy game is one of my favorites! We clearly have awesome taste! Come and play more of my fave boy games!