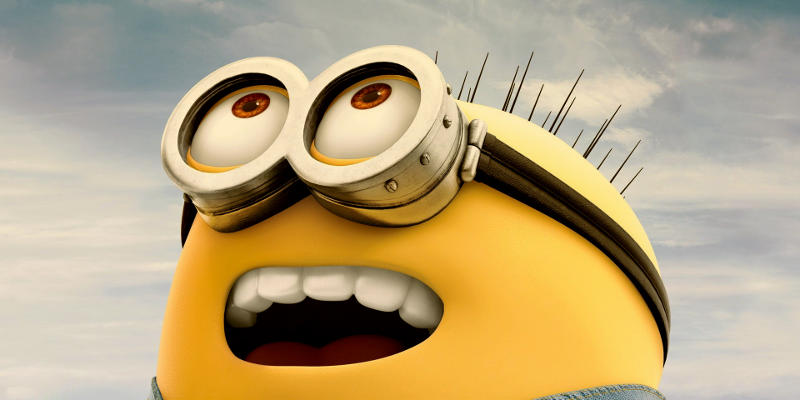 Once upon a time, there was a single yellow cell. After several thousand years, there were millions of minions. We met them in Despicable Me and fell in love with them as fast as you can say 'short little yellow assistant things with no real language'. Even though they were working for (not-so) evil Gru, between the minions and Agnes there was a pretty ferocious battle for our hearts going on.
But what about the gap between the single yellow cell and Despicable Me? What happened then? Where did the minions come from? Well, their new movie tells you just that! And we'll give you a cheeky taster...


Since the dawn of time (sort of), the minions have needed an evil master to serve in order to survive. Happiness for a minion is carrying out the orders of a tyrannical despot, a wicked villain, a very very naughty so-and-so, you get the idea.
When the dinosaurs roamed, the minions were the faithful followers of the Tyrannosaurus Rex. They worked for Dracula. They were yellow-bellied assistants to Napoleon himself.
But as we know, the good intentions of the minions often result in disastrously disastrous disasters. Every task, every order, every job; they all go horribly wrong, usually leaving the villain covered in soot and looking really very angry.
So could it be that all along the minions have in fact kept us all safe from their evil masters, simply by never successfully doing… anything?!
In the movie, we join the minions master-less, sad and alone, like mouldy banana skins. Kevin and his minion pals, Stuart and Bob, head off on an adventure in search of a new boss! Who will they find (er… we'll have to wait 'til Summer 2015 to answer that)?


But as ever, you know what to do. Clap your peeping devices on the trailer and join us in being mad excited for the movie release, maybe wearing dungarees a lot and enormous goggles and talking utter rubbish for weeks. Enjoy!