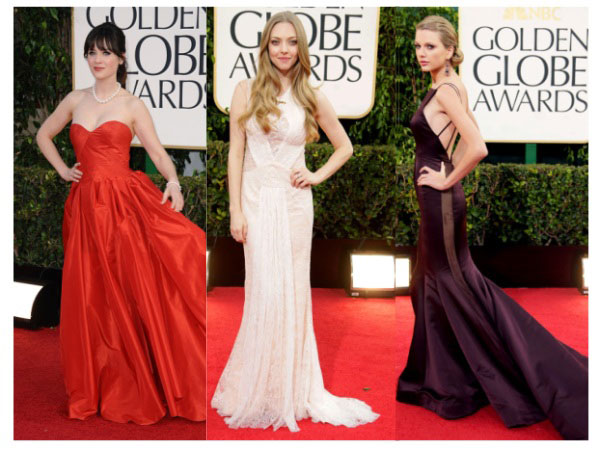 So, last night was the night of the Golden Globes. While we were at home pretending to do our homework (but actually playing HiDolls), loads of celebrities were getting polished and glammed up to grace the red carpet. So, we know it's awesome that filmmakers, actors and actresses are being praised for their work and being given nice shiny awards to take home, but, we care just a little bit more about all the cool fashion there is to look at, don't you? From chic floor length satin to jewels and sparkle, every actress who went to the event looked glammer than Cruella De Vil after a trip to her seamstress. So, take a look above at our top three looks of the evening, and read on to find out why they were our faves…
- Taylor Swift: Wow. Taylor is really going for the kill in this beautiful, backless plum dress. She's looking totally grown up here, reminding us that she's now a respected musical artist, not the teen pop princess she used to be. Gotta say though Taylor, why the long face? You're never fully dressed without a smile!
- Zooey Deschanel: Do you think Zooey's hiding a pair of glass slippers underneath that dress? She is fully channelling a modern day Cinderella, and a great actress like Zooey couldn't be more suited to the part. Check out her happy face and rosy cheeks too. Her life is clearly the stuff fairy tales are made of. Jealous much?
- Amanda Seyfried: Do you remember the film Mean Girls? This pretty actress has come a long way since playing a ditzy high school student, but her outfits have always stayed super stylish. Here, she gives a nod to old skool Hollywood glamour in floor length, cream lace and tumbling blonde curls. Her fresh, natural make up keeps this look up to date. It'd be pretty hard for her to be 'les miserables' when she looks this drop dead gorge (oh, she's in massive new Hollywood blockbuster Les Miserables by the way)!
Which one is your favorite? Let us know your fashion thoughts!