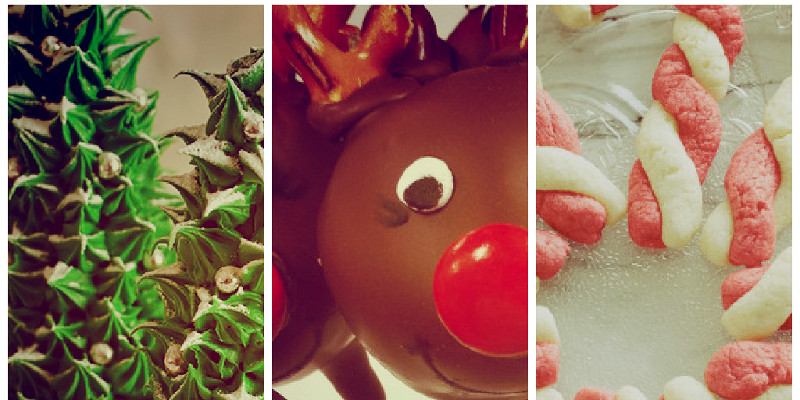 It's the Christmas holidays and everyone's eating tons of yummy snacks. If you're not busy eating them and the presents are all unwrapped, why not try and bake some of these simple treats? They look so amazing, no one will believe they were so simple to make!
We're going to let you take all the credit for these you know. You better get us a good present.

Candy Cane Cookies
You'll need:
1 cup sugar
1 cup butter/margarine (make sure it's been left out to soften!)
½ cup milk
1 tsp vanilla
1 tsp peppermint extract
1 egg
3 ½ cups flour
1 tsp baking powder
pinch of salt
½ tsp red food color
2 tblsp peppermint candy
2 tbsp sugar
Got all that? Here's what you need to do…
Grab the sugar, butter, milk, vanilla, peppermint extract and egg and whack it all in one bowl. Mix it up.
Add flour, baking powder and salt and stir it all up; this should give you a dough. Split the dough in half and add the red food colouring to one half. Cover it up and pop it in the fridge for at least 4 hours.
Put the oven on so it has time to preheat! 375ºF is perfect.
Mix together the peppermint candy and sugar and set it aside (away from naughty types who might snaffle it).
Now for the fun fiddly part! Take a teaspoon and use it scoop a lump of dough from each half (the red one and the uncoloured one). Take the lumps and role them back and forward on a surface to make a little dough rope about 4 inches long. Then, when they are both even in length, place the two ropes you've made side by side.
Press the ropes together lightly at the ends, and twist them around each other. Curve the top of the dough to make a candy cane shape.
Repeat this until you've got no dough left (because it has all been made into cookies, not because you have eaten it).
Pop the cookies on a tray and into the oven for around 9-12 minutes. They should be a very light brown when you take them out. Once they're out, sprinkle the candy mixture over the cookies and leave them to cool on a wire rack for about 30 minutes.
Easy peasy candy squeazy!

Rudolph the Reindeer Cake Pops
You'll need:
Roughly 150g of chocolate cake
25g soft butter
50g icing sugar
25g plain chocolate
100g milk chocolate
small pretzels
jelly sweets or other colorful candies
2 2bsp royal icing or writing icing
First crumble your leftover chocolate cake into fine crumbly crumbs. You can use your hands or a food processor depending on how messy you want to get. Put the crumbs in one bowl.
Grab another bowl and beat together the butter and icing sugar until it's creamy and smooth.
Get an adult to help you melt the plain (repeat: plain!) chocolate in the microwave. Add the melted chocolate to the butter mixture and mix them together like nobody's business.
Add your chocolatey gooey buttery mixture to the cake crumbs and squish it all in with your hands until it starts sticking together. Divide the mixture in half, then in half again (quarters!) and then divide those into half AGAIN. Sounds complicated but you'll end up with eight evenly-sized balls of dough.
Shape the dough into smooth balls in your hands, stab it with a cake pop stick and place it on a tray lined with baking paper. Leave it in the fridge for at least 2 hours.
Now get your milk (that's MILK) chocolate and melt it in the microwave like you did before. Now grab your first cake pop and dip it in the chocolate. Gently shake off the excess chocolate (a necessary evil) and push the stick into a polystyrene block.
Remember those pretzels? Break them into antler-y shaped fragments.
Easier than it sounds, we promise.
Make two holes in the top of the ball (you might have to hunt around for a good-sized tool for this - check with an adult!) and insert an antler into each.
Add a sweetie nose to the front of the ball and then leave this to set while you make the other cake pops. When they're all set (around 20 minutes later), ice some beady eyes and a smiley mouth. Ta da! Reindeer cake pops, easy as, pie er, cake pops.

Curiously Coniferous Christmas Cup Cakes
You'll need:
Ice cream cones
Edible cupcake gems
Piping bags with green AND white frosting
Ready-made Cupcakes
Once you've made your cupcakes (or bought them, we won't tell anyone), grab an ice cream cone and balance it (upside down, it would be impossible otherwise) on top of the cupcake.
Smother the upside down ice cream cone in green icing, using a knife to smooth it down. Then pick up your trusty piping bag and pipe little leafy splodges all the way down the cone.
Once you reach the base, use your white icing to pipe frosting around the base of the tree. Alternatively you could pipe the base frosting first and squash the cone into it, but we feel this could go horribly wrong if you misjudge your cone size.
Add your colorful gem decorations like lovely baubles on a tree, and then sprinkle sugar over the whole thing for an artfully, dusty-snowy look. And you're done!
Let us know how your baking sesh went! Especially if you end up with something like this...!