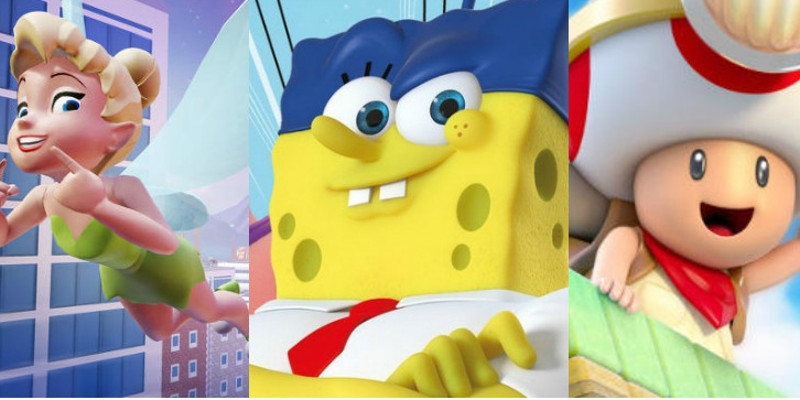 We're busy working on a list of 2015's best apps, but first it's time for the games of 2015 to get the Lea, Lilou and Lee treatment...
Kirby and the Rainbow Curse (Wii U)
Everyone's favourite pink blob is back! Kirby's latest instalment sees travel through a strange clay world (keep your eyes peeled for Kirby's clay plaster when he's low on health - hilarious). With the help of the Magic Powerbrush (just go with it), draw rainbow coloured lines for Kirby to travel along, attack-spin his enemies and Star Dash blocks out of the way. Out Spring 2015, this game also has four player co-op, so there'll be three extra people humming the crazy game music.
The Legend of Zelda (Wii U)
It's been a fair old wait, but it's finally been revealed by the chaps over at Nintendo that Zelda is coming to Wii U. They're keeping the title a secret for now, but we do know that it's an ABSOLUTELY HUGE open world for you to explore with tons of puzzles to solve and enemies to defeat.
The Legend of Zelda: Majora's Mask (3DS)
In this dark and spooky instalment for the 3DS, Zelda has just three days to save the world (the game actually counts down). It's a remake of the N64 version made way back in Medieval times (er, 2000), and set in Termina, unlike Hyrule, where the Skull Kid has stolen Majora's Mask, causing Termina's moon to come speeding right towards the planet! Stressful.
Yoshi's Woolly World (Wii U)
Yoshi has broken free of the Mario world and is off on his own very woolly adventure. Yoshi's way of getting through obstacles is to eat them, made even better by the fact that yes, they come out the other end as balls of yarn. This is the happiest, funnest, woolliest explosion of colour, and you can play with your friends - and eat them too. Hooray!
Captain Toad: Treasure Tracker (Wii U)
Just like Yoshi, Captain Toad is off doing his own thang (poor Mario must be a bit lonely), although Toad and Toadette are a bit more reluctant. Captured by a giant bird, they have to find their way back through the most adorable world EVER, with each mini-world a tricky little maze where you have to find your way through secret passageways to collect all the stars.
SpongeBob HeroPants (3DS, PS Vita)
Following the dramatic events of The SpongeBob Movie: Sponge Out Of Water (out March 2015), in SpongeBob HeroPants SpongeBob's dreams come to life and play havoc with the very nature of space and time! You're off on a good ol' underwater adventure with Squidward, Patrick, Sandy and the Bikini Bottom gang, except this time they're all super hunky superheroes!
Disney Infinity Marvel Super Heroes (PlayStation, Wii, Xbox, PC)
The Disney Infinity games have allowed you to play freely with all your favourite Disney characters; Buzz Lightyear hanging out with the Incredibles and Merida from Brave. Simple. But now they've introduced the Marvel superheroes too! That means Iron Man meets Aladdin, Maleficent goes adventuring with Captain America… you get the idea. Our imaginations have exploded!
Just Dance 2015 (PlayStation, Wii, Xbox)
You know how it goes: dance along to bangin' tunes to score points! The latest version has 'Bang Bang' by Jessie J, Ariana Grande and Nicki Minaj, 2014 anthem 'Happy' and a ton of One Direction to keep anyone going until their feet dance right through the floorboards. It even has the Macarena, CLASSIC.
Rollercoaster Tycoon World (PC)
The fourth instalment in the RollerCoaster Tycoon series is finally here! At least, it will be soon. As ever, build your dream theme park, craft ridiculously terrifying roller coasters (that fling peeps out of their seats) and keep your books balanced.
The coolest new feature is the multiplayer aspect of RCTW; now you can visit other player's parks and even share your ideas for coasters, as well as sharing management of your own park (for the lazier tycoons amongst us).
Art Academy (Wii U)
Whether you're the next Picasso or just some lunatic armed with a pencil, Art Academy has every tool you can think of and all the tutorials (plus a little beardy artist teacher) to teach you mad skills. And your beardy teacher is really big on drawing Nintendo characters, strangely.
Mario Maker (Wii U)
Playing Mario is one thing, but you know what's even better? Jumping right in and building the levels! Craft your own stages and mazes for Mario to hop through, and then you can go a bit mad. Build ridiculously huge towers, or attach wings to plants and send them flying all over the shop. Total Mario madness, in 8-bit and 3D.
Mario Party 10 (Wii U)
Everyone knows there ain't no party like a Mario party - except when Bowser rocks up and starts causing trouble. Grab four mates and take on Bowser, play bizarrely mesmerising mini games and admire lovely pink Princess Peach. That's all we ever do in Mario games anyway.
And that's us all gamed out! We reckon every girl gamer worth her salt will find something in there to enjoy. If not, there's always the Sims 2, 3 or even 4 to fall back on...
We're super excited about how many of these games are co op! Endless hours of fun, and now we don't even have to sit alone in the dark when we're gaming. Not that we ever did, of course.