How to play the game "Xia-Xia Game"?
Tobago, Bimimi, Trinidad, Turks... do any of those names ring a bell? They should do if you like Xia-Xia pets! The Xia Xia boys and girls are hermit crabs: there's Tobago, the brave one; Bimimi, the artist girl crab; Trinidad, the dancer; and Turks, the cutest little crab in the sea. In this surprise game for girls, one of the Xia Xia hermit crabs is hungry and on the hunt for food. Can you help him out in this free girl game? Read more
This Xia-Xia pet needs to catch the fish by throwing a little white pearl at them. Help him out in this online animal game by moving your mouse to bounce the pearl off a shell so he can catch as many fish as possible. Make sure it doesn't hit the sea floor, or you'll lose a life! Do you have any Xia Xia pet toys at home? Come and tell us all about them in our forums, and keep browsing the site for more great girls' games!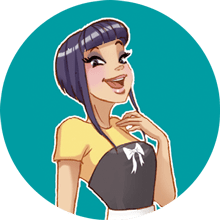 Xia-Xia is one of my favorites! We clearly have awesome taste! Come and play more of my fave free games!