How to play the game "The Voice TV Stylist Game"?
Annie has a big day ahead of her. After weeks and weeks of waiting, she has just heard that she has got a place in The Voice auditions! She has been working so hard as a singer for years now, performing in clubs for free and hoping to get her big break, well, this might just be her chance! So, you need to make sure she looks like an absolute superstar for the judges. Are you ready to give her a superstar look? Read more
First, you need to prep Annie's skin. You'll need to exfoliate, cleanse, tone and moisturise to get her skin nice and clean and ready for make up. You should try and be bold with your make up choices, as Annie really needs to stand out... she needs The Voice judges to notice her after all! Keep this in mind when you plan her outfit too in this girls' makeover game. Make sure Annie looks stylish, but unique at the same time. Wow, she looks amazing, good job!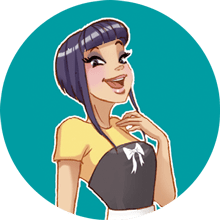 The Voice TV Stylist is one of my favorites! We clearly have awesome taste! Come and play more of my fave make up games!