How to play the game "Ten Pin Bowling for Girls Game"?
Do you like going bowling? If you're a regular at your local bowling alley or if you've tried knocking down the pins in other girls' games, we have a real treat for you today! In this online bowling game for girls, you'll have to use your mouse to aim, shoot and hopefully score. Don't worry if you find it a bit difficult at first; like many girls' games, it takes a bit of practise to get the top score! This sports game will let you get a bit of extra practise in before your next trip to the bowling alley. Bet your friends will be bowled over by your new skills! Read more
As you'll see when you start to play, the bowling ball in this girls' game keeps moving from left to right; click to stop it at the right position, and then click again to aim it at an angle that will knock down the maximum number of pins. Finally, watch the power bar carefully and click a third time to decide the power with which you want to throw the ball towards the pins. Just like in real ten pin bowling, you'll get two throws per round, so try to knock down all ten pins to score a spare or a strike. Good luck, and remember to check out the surprise games section for lots more sports fun!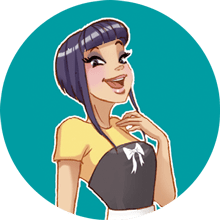 Ten Pin Bowling for Girls is one of my favorites! We clearly have awesome taste! Come and play more of my fave sports games!