How to play the game "Stage Beauty Game "?
Annie has been your best friend since you were babies! She is now an actress in a small theater company, and you are studying to be a stylist. So, she's asked you for a favour! Her usual stylist called in sick today, so she needs you to prepare her for the stage. What a great opportunity! Read more
Remember, Annie wants to be a star some day, and you can help her look amazing! Make sure you match Annie's outfit to the style of makeup you apply. You'll see vintage, couture, cyberpunk and harajuku styles. This game will really test your skills girls! Tell us, which style did you like the most?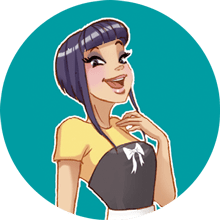 Stage Beauty Game is one of my favorites! We clearly have awesome taste! Come and play more of my fave beauty games!