How to play the game "Shy Girl Beauty Makeover Game"?
Everybody would love to have a new look and you're part of the team working on a brand new makeover TV show! Marie's friends entered her onto the TV show, and they think she is too shy and scared about what other people will think of her style. Marie likes to hide behind big baggy jumpers and not wear any make up. She always looks pretty, but she needs to be more confident and adventurous with her style! Can you help her in this free makeover game for girls? Read more
Remember, you got this job because of your knowledge on beauty, make up and fashion trends, so make sure you use all your experience in makeup to your advantage. Before anything else, start by cleansing Marie's face and prepping her skin... don't you just love a good facial! Then, it's time for make up and hair. Finally, you'll need to choose clothes and accessories. Marie needs a total style overhaul, so be brave with your choices!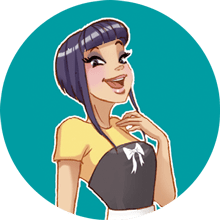 Shy Girl Beauty Makeover is one of my favorites! We clearly have awesome taste! Come and play more of my fave makeover games!