How to play the game "Rochelle Goyle's Pedicure Game"?
Rochelle Goyle has skin that is made of stone. It's not always easy, but Rochelle knows that she can have a lot of fun making herself beautiful with makeup! That's right, even stone skin has impurities and imperfections! Rochelle has decided to launch a mini-challenge with her girlfriends at Monster High...who can design the prettiest pedicure? It's so difficult for Rochelle Goyle in this celebrity makeup game for girls though, because she can barely reach her feet! Stone isn't that flexible... Read more
This Monster High student needs you desperately in this frightfully fun girls' game! You can be as creative as you like, as there are lots of different designs and color combinations to choose from! Check out the nail colors, stickers and tatoos! You can also choose a pair of stylish leggings for Rochelle in this nail game, and a daring pair of shoes. Isn't she the most beautiful gargoyle you've ever seen? We bet she's going to win the challenge, we really nailed it!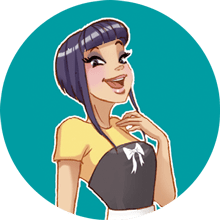 Rochelle Goyle's Pedicure is one of my favorites! We clearly have awesome taste! Come and play more of my fave nail games!