How to play the game "Pirate Treasure Hunt Game"?
Stand by to board!! In this pirate game you'll need to keep your eyes wide open and find lost objects hidden across ships, in creepy caves and on desert islands. This pirate family have collected dozens of shiny treasures and rare relics during their adventures - unfortunately, some clumsy cabin boy has dropped the treasure chest and they've been scattered all over the place! Help the family find each object in this game for fearless pirate girls: you'll need to spot a pistol, a treasure map, a spyglass, a hook, a pirate flag and several others in order to complete each level. It'll probably remind you of Spot the Difference games that you might have played! Read more
Stay alert and don't click until you're completely sure you've found a lost item, otherwise you'll lose points! If you try hard you might even hit the top score of this free surprise game! Once you've found all the pirates' treasures, they will head back to sea for other adventures - they'll no doubt come across other fearsome bandits like Jack Sparrow and the Pirates of the Caribbean, while you can discover tons more girls games just as fun as this one!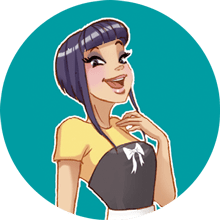 Pirate Treasure Hunt is one of my favorites! We clearly have awesome taste! Come and play more of my fave adventure games!