How to play the game "Pet Fish Game"?
For many boys and girls, a goldfish is their very first pet. As well as being pretty, goldfish are very easy to take care of: you don't need to train them or take them for walks, and they never make noise or mess. In this free animal game for girls you'll get to take care of your very own pet fish by cleaning its tank, feeding it and giving it some toys and decorations to swim around. Fish might be easier to look after than cats or dogs, but they still need love and attention! Read more
Have you got any pets at home? Come by the forums to tell us all about your cats, dogs, rabbits, hamsters or other pets, and make sure you check out the Free section to play girls' games and online pet games with all sorts of animals. Have fun!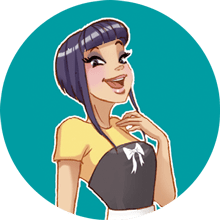 Pet Fish Game is one of my favorites! We clearly have awesome taste! Come and play more of my fave free games!