How to play the game "Modern Princess Style Game"?
Maybe you've never met a princess in real life, but you're surely played with dozens of them in girls' games! You'll know that princesses always like to look their best on TV, in magazines and in dress up games, which is why they like to have wardrobes overflowing with exquisite dresses, glittering jewels and beautiful shoes. In this game you'll meet Princess Lauren, a modern day princess who is currently enjoying a luxury cruise around the Mediterranean with her big sister, Princess Stephanie. Read more
In this dress up game you'll get to give Lauren an amazing makeover. Choose Lauren a stylish modern outfit for her trip; with pretty skirts, cool jackets and fancy accessories. If you love all things pink you're sure to like this dress up game, because pink is Lauren's favorite color too – her whole wardrobe is full of it! Once you've chosen the perfect outfit for our pink princess, click 'Show' to take a photo of her posing by the starboard. Have fun dressing up this princess on her cruise, and don't forget to admire the view!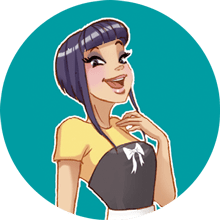 Modern Princess Style is one of my favorites! We clearly have awesome taste! Come and play more of my fave princess games!