How to play the game "Makeover Lady Gaga Game"?
It's time for another star makeover game featuring one of the most fabulous and fashionable popstars around: Lady Gaga! Love her or hate her, there's no denying this eccentric singer has a unique sense of style. If you've seen her music videos or played online Lady Gaga games, you'll know that she loves experimenting with weird and wonderful new looks; from meat dresses to telephone hats, there's nothing too wild for Lady Gaga! In this star makeover game for girls, Lady Gaga is in Tokyo and has been asked to model for the cover of a really iconic Japanese fashion magazine. It's up to you to do her hair and makeup before she gets in front of the camera, so put your style skills to the test in this Lady Gaga makeover game! Read more
Just like a real celebrity make up artist, you'll have a box full of top quality products to let you make Lady Gaga look extra glamorous in this star makeover game. Get creative and experiment with different shades and colors of foundation, eyeshadow, lipstick, mascara, eyeliner and blusher until you've found a truly unique combination for this famous fashionista. You can even give her piercings and dye her hair bright colors! Style has no limits where Lady Gaga's concerned, so don't hold back in this star makeup game. If you think you've got what it takes to be a real celebrity stylist, keep browsing the star games section for more practise: there are tons of singers, actresses and celebrities waiting for your fashion advice in these free girls' games!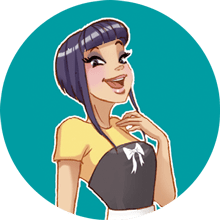 Makeover Lady Gaga is one of my favorites! We clearly have awesome taste! Come and play more of my fave celebrity games!