How to play the game "Make Me a Runway Model Game"?
Ellie is doing a favour for a supermodel friend of hers today. Her friend called in sick to work, but it's the night of a huge fashion show! Ellie has promised to step in and strut her stuff on the runway, but she has no idea how to style herself like a supermodel! In this girls' make up game, you need to give Ellie a complete supermodel makeover so that she's ready to impress all these make up and fashion experts. Let's get to work! Read more
In this beauty game for girls, the first thing to do is give Ellie a complete facial, that skin needs some work! Doing this will give you the perfect base to build the rest of Ellie's look on. Play around with the different make up, hair colors and jewelry...then don't forget to pick an outfit! Ellie's counting on you to make her look like a pro, don't let her down!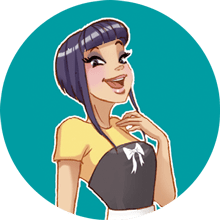 Make Me a Runway Model is one of my favorites! We clearly have awesome taste! Come and play more of my fave make up games!