How to play the game "Magic Animal Game"?
Unicorns, dragons, phoenixes... you'll find all sorts of amazing magic animals in our girls' games! Today you'll meet a little fish who may not seem very magical at first, but he is in fact a very special rainbow fish who can grant wishes and travel through time. In this animal game with fish, you'll get to dress up a fish any way you like, choosing from lots of magic fins and tails, plus hats, armor and lots of other accessories! Read more
Just like our decorating games and dress up games, it's totally up to you how you design your magic fish today. Will you give him a wizard's hat, a unicorn horn, or maybe special silver armor for battle? If you run out of ideas, click the dice to see some of his favorite fishy costumes! Have fun decorating a fish in this free girl game, and make sure you keep checking the surprise category for more pet and animal games!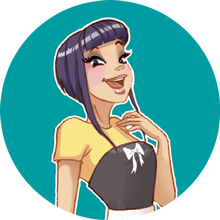 Magic Animal is one of my favorites! We clearly have awesome taste! Come and play more of my fave free games!