How to play the game "Lilly, the cartoon heroine Game"?
Lilly is a girl who looks a lot like a cartoon heroine, with her pink hair and big blue eyes. In this girls game of make-up, Lilly has got a huge selection of make-up - she loves playing around with different colours and different styles and her friends sometimes come over so they can all do make-overs together! Read more
Thanks to this great girls game you can join in the fun with Lilly and her friends. There is lipstick, mascara, blusher, eye shadow and eye pencils that you can use for this game. If you make a mistake, you can always remove the make-up with the make-up remover!
Be creative! It's fun to just play with all the different colours! And when you're finished with make-up - why not try one of the other types of games - dressing up, or maybe something sporty!?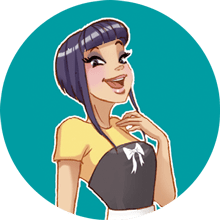 Lilly, the cartoon heroine is one of my favorites! We clearly have awesome taste! Come and play more of my fave make up games!