How to play the game "Hotel Management Game"?
Relaxing in the spa, dining in fine restaurants, ordering room service and never having to tidy up... hotels are so relaxing, right? Not for the staff! Luna has just been hired to work as a manager in a brand new hotel, and today is her first day on the job. She loves working in hotels and is really excited to start her new job, but she's pretty nervous too. Running a hotel is a difficult job and it can be very stressful, especially during the summer season. Can you help her out in this free hotel game? Like many management games, the aim of this girls' game is to serve your clients as quickly as possible in order to keep them happy and earn lots of money. Have a go and see if you've got what it takes to make it in the world of business! Read more
To begin, click on the first girl or boy to arrive at your hotel; give him or her the keys to the hotel room, then watch their door for any requests. They might ask for a cup of coffee, some towels, or for their room to be cleaned. You staff will be on hand to help you, so click the icons on the bottom left to call on the maids or bellboys. Once the guests are ready to check out, they'll leave money on the receptionist's desk. You'll have lots of people to tend to at once in this girls' hotel game, so work hard to serve them as quickly as possible. If they're not happy with the service, they'll leave without paying! There are several levels for you to complete in this hotel game, and as you move up them you'll have more guests to serve, extra services such as massages to offer, and higher targets to beat. Think you're up to it?! Good luck, and keep browsing the site for more management challenges; you'll soon be a five-star boss thanks to these work games!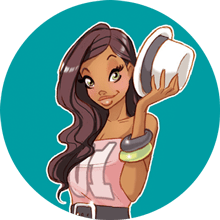 You're clearly loving Hotel Management - you should check out my pick of the best management games!