How to play the game "Giraffe race Game"?
Horace the Giraffe has had enough! Zoo life is getting him down, and in this girls' racing game you can help him make a break for freedom! To play, just use the up and down arrows on your keyboard to help him jump over the sleeping lions and duck to dodge the monkeys in the tree. This fun animal racing game starts off easy, but as Horace speeds up you'll have to go faster and faster to make sure he doesn't trip up. The ranger is chasing him with a tranquillizer to make him sleep - it's up to you to make sure he doesn't fall over, or he'll get caught! Try to score as high as possible in this girls' game and help Horace escape! Read more
Do you love giraffes like Horace and other zoo animals? We have lots more girls' zoo games featuring cats, dogs, monkeys and lots of other cute critters. Check out MyGames4Girls.com for hours of fun with racing games, decorating games, dress up games and much more. Why not drop by our forums later and tell us about your pets or your favorite animals? But for now, help Horace on his great espace - run Horace, run!!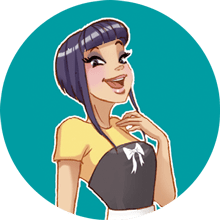 Giraffe race is one of my favorites! We clearly have awesome taste! Come and play more of my fave racing games!