How to play the game "Turkey Escape Game"?
Reggie has always been afraid of Thanksgiving. Why? Because he's a turkey and he's on the menu! In the movie, Free Birds, Reggie tries to warn the other turkeys about their Thanksgiving fate, but no one will listen! He has to help them see that their lives are in danger, but it's not going to be easy. Read more
In this game, you must help Reggie first escape by helping him run as fast as possible. Use your mouse to help Reggie catch the feather. Try not to get in a flap, and look out for the fork! Once the other turkeys know what he is capable of, maybe they'll start listening to him, and then these birds can stop their friends and family from being eaten every November!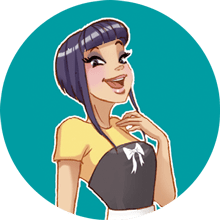 Turkey Escape is one of my favorites! We clearly have awesome taste! Come and play more of my fave thanksgiving games!