How to play the game "Fijit Game"?
What are your favorite toys or animals at the moment? Kimmidolls, Lalaloopsies, maybe Lego Friends? In today's girls' games we're going to introduce you to the Fijit Friends' cousins! If you don't know Willa, Sage, Serafina and Logan yet, we bet you'll love playing with them once you've met their cousins in this monster game for girls. Read more
The Fijit Friends are incredible little creatures who came about after a strange scientific experiment. They love dancing, joking and laughing for hours and hours! Thanks to this free monster game, you can great your very own Fijits by changing their color and giving them funny eyes, laughing mouths and lots of cool accessories. Have fun with Willa, Sage, Serafina and Logan's cousins today, and keep browsing our girls' games for lots more surprises.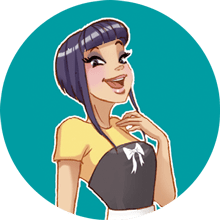 Fijit Game is one of my favorites! We clearly have awesome taste! Come and play more of my fave free games!