How to play the game "Elephant Care Game"?
Have you ever been to London Zoo? It's a very big, very famous zoo that looks after lots of animals. It has pretty much every animal you could think of! It's an exciting day at the London Zoo in this animal game for girls, as some baby elephants have just arrived! They are so cute and small! Well, ok they're not exactly that small compared to you and me, but they are compared to the other elephants! In this cute animal game, it is your job to take care of these adorable animals. Are you ready to get started? Read more
What a mission! These baby elephants must be washed, dried, and brushed, but you also need to give them lots of love, care and attention...just like real babies! In this free elephant game, you have a choice: take care of one baby elephant, or several. If you choose several, you must prepare yourself for a challenge as you will be up against the clock! We loved working at the zoo in this cool animal game. Do you think you would make a good zoo keeper?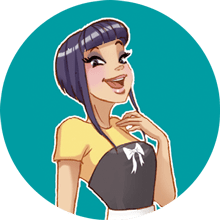 Elephant Care is one of my favorites! We clearly have awesome taste! Come and play more of my fave animal games!