How to play the game "Dressing for a Wedding Game"?
Do you like weddings? Daisy loves them, she is always dreaming about going to one! Today is her lucky day, because her older sister is getting married! That's not all though...Daisy is going to be the maid of honor! As you can imagine, she is a little nervous. She has played lots of wedding games before, so knows exactly how a bride should dress up on the big day, but the maid of honor? Well, that's a different thing entirely! Read more
So girls, it's your job to make sure that Daisy looks amazing on her sister's big day. Everything has to be perfect! Choose a hairstyle, with or without a crown, and a dress that will suit the occasion. Choose from simple cuts to more frilly, fancy shapes. You'll also find bright fabrics, lace, lantern sleeves and gorgeous flowers and patterns. Complete the look with some cute shoes and a necklace, and remember to take some rice or confetti! Have you ever been to a wedding?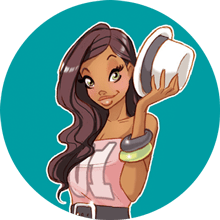 You're clearly loving Dressing for a Wedding - you should check out my pick of the best dress up games!