How to play the game "Barbie Basketball Player Game"?
What's your favorite sport? Barbie has been crazy about basketball since she was just a little girl. While the other girls in her class would put posters of popstars and actors on their walls, her bedroom always was covered with pictures of Magic Johnson and Michael Jordan! This sporty girl has been playing for her high school basketball team for three years now, and they're getting ready for the final game of the season. Let's help her get ready! Read more
Basketball players usually wear vests, comfortable shorts and sneakers, along with accessories like headbands and wristbands. Barbie has loads of sports clothes tucked away in her wardrobe, so you can try out loads of different outfits. You can even change her hairstyle!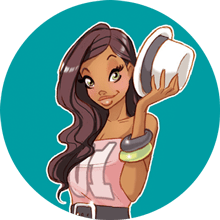 You're clearly loving Barbie Basketball Player - you should check out my pick of the best dress up games!