How to play the game "Dream City Dress Up and Design Game"?
Julia lives in a city where all dreams come true. The sun is shining, it is always warm and she has lots of friends. Every day, Julia visits her best friend who lives next door and they have a good gossip. Although they love life in this dream city, they have become a little bored lately, every day is the same! Julia does not know what to do, can you help add a little excitement to her life in this dress up game for girls? You're going to need some decorating skills! Read more
We know that you are a design and dress up game expert, so show us what you can do in this free game! You can totally transform the girls' neighborhood. Change the buildings, hills, sky, flowers and more. Help the girls find a dream house! You can experiment with different layouts in this city dress up game, and then you can dress Julia! She always likes to look her best when she's out and about, but this day is a special one, everybody is going to want to see what the new city looks like, so make sure Julia looks amazing too in this free dress up game! What would your dream city look like? Tell us in the comments!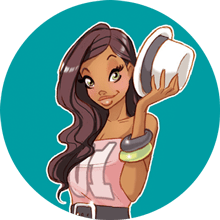 You're clearly loving Dream City Dress Up and Design - you should check out my pick of the best city games!