How to play the game "Dragonfly Adventure Game"?
You never know what sort of brave heroes and heroines you might come across in our girls' games! Today you'll be heading out on an adventure with Maggie, a cute little dragonfly with big bug eyes and purple hair. The aim of this game is to direct Maggie down the enchanted river so she can get home to her village. However, the river crosses some polluted areas, and all sorts of strange items have been dumped in its water. Help Maggie jump and duck to avoid the obstacles in her path, all while catching as many pink stars as possible! You'll be able to test your speed and agility while you help Maggie. Just use the arrows on your keyboard to let her move forward, jump or duck.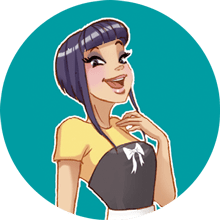 Dragonfly Adventure is one of my favorites! We clearly have awesome taste! Come and play more of my fave adventure games!