How to play the game "Daisy The Cow Coloring Game"?
Hi girls, it's Lilou, Lea and Lee here! We have some brand new games to share with you today. Here's a great coloring game starring one of our favorite animals, Daisy the cow! Cows might not be as cute as puppies or kittens, but Daisy is no ordinary animal. Her best friend is a bunny called Benji and they love to dress up in superhero costumes - just like we do! In this game you can see Daisy and Benji dress up as two of their favorite superheros, Batman and Robin. We think the picture is a bit boring in black and white, though... can you color it in for us? Read more
It's really easy to play this girls' game! Just click the type of paintbrush you want to use from the icons along the top bar, then pick the colors you want to use from the palette at the bottom. You can stick to normal colors or try something a bit more wacky. It's up to you!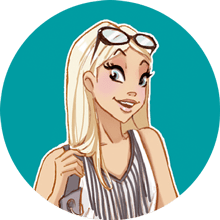 If you enjoyed Daisy The Cow Coloring , you'll love these animal games just like me!