How to play the game "Jewelry Crafting Game"?
Heres a really good game for girls who are creative and love to make things, or even for girls who just love wearing beautiful jewelery! Read more
Start by clicking on one of the top three buttons. The top button is the easiest level, so it's a great place to start. The next two buttons are levels 2 and 3, so these get a lot harder.
When you start the game you'll see some earrings. You need to really really try to remember what they look like because you'll not get to see them again.
Then you've got to try to make them! If you click on the book, you'll see all the different styles and how they are made, so if you're not sure what gemstones to use, that will help. Be quick though, you don't have long to make each earring before your time is up!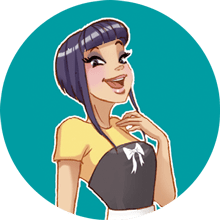 Jewelry Crafting is one of my favorites! We clearly have awesome taste! Come and play more of my fave free games!