How to play the game "Charmmy Kitty Game"?
Charmmy Kitty games are quite similar to all the games in the hello kitty section of mygames4girls.com. There are lots of hello kitty games, but Charmmy Kitty is a special little kitten who loves to get up to all sorts of mischief. Read more
To play this racing game, just click on the word 'play' and then you'll need to use they keys 'z' and 'x' very quickly, to move faster and faster in this race game with Charmmy Kitty. The faster you tap these two letters, the faster you'll move, and hopefully you'll win in Charmmy Kitty games for girls!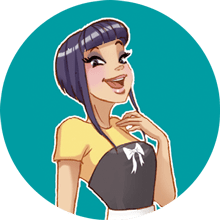 Charmmy Kitty is one of my favorites! We clearly have awesome taste! Come and play more of my fave hello kitty games!