How to play the game "Car Memory Game"?
Are you the sort of girl who's always up for a challenge? You'll find tons of exciting adventures waiting for you in our girls' games! Today we've got a car game for you, but it's not your speed you'll be putting to the test here; instead, you'll be tackling a difficult puzzle in a memory game! You'll need to match the pairs of cars under the cards that you see on screen, so concentrate and try to remember as much as you can. Read more
Porsche, Mercedes, BMW... how many types of cars can you name? You'll see loads in this this game! There are three levels for you to play and if you make a mistake you'll lose a life, so think hard and try to find the pairs as quickly as you can in this puzzle. Fancy getting behind the wheel and driving a car after seeing all those fancy sports cars? Have a look around the games on this site for lots more surprises!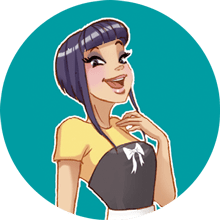 Car Memory is one of my favorites! We clearly have awesome taste! Come and play more of my fave memory games!