How to play the game "Candy Shooting Game"?
There's chaos in the classroom this afternoon. Somebody threw a paper aeroplane and it got stuck in the teacher's eye, ouch! She's rushed off to see the school nurse, leaving an entire class of excited children on their own...this sounds like a recipe for disaster. The kids are taking advantage of the situation in this free shooting game by playing around. They're not playing with toys though, they're playing with candy! Read more
Most normal children would simply eat their candy, but not these students. They prefer to shoot it across the room into each other's mouths! They all have pretty good aim, and now they want to see what your skills are! Press the spacebar each time an open mouthed child appears and the candy will shoot at them. Try and get in into their mouths, otherwise it will hit them in the face! This is such a silly girls game! Have you ever been so silly with sugary sweets before? Share your funny stories!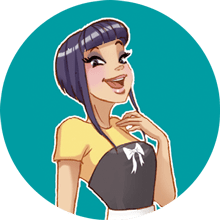 Candy Shooting Game is one of my favorites! We clearly have awesome taste! Come and play more of my fave free games!