How to play the game "Blobi Pop Game"?
This is a great new game on mygames4girls.com. All you need to do is get 3 bubbles of the same colour next to eachother to make them explode and drop down! To do that you need to use the arrow keys to move the cannon from left to right, and then press the space bar to fire! You have to be quick though because the bubbles will be moving closer and closer to you all the time and if you let them get down tot he bottom - you LOSE! Read more
Another thing to be careful about though, is that the colour of the ball you're firing will change all the time. So make sure you keep looking down at the cannon so that you know what coloured bubble is going to come out of the cannon! Get as many points as you possibly can by getting all the bubbles down quickly, and then remember to put your high score into the comments box, so that all the girls that play this game and compare their scores to your score! You'll have lots of fun with this great game for girls!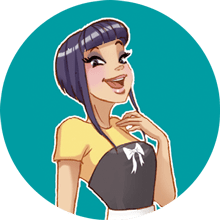 Blobi Pop is one of my favorites! We clearly have awesome taste! Come and play more of my fave free games!